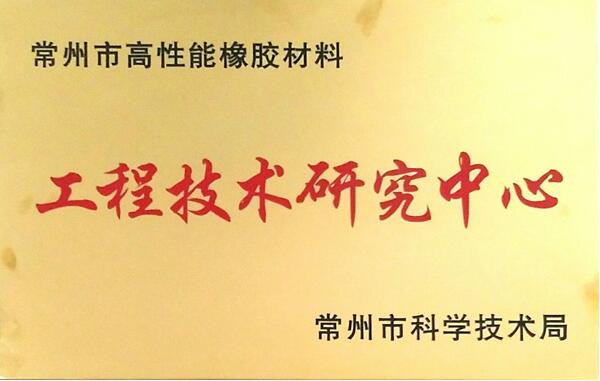 Changzhou High-tech Zone (Xinbei District) Engineering Technology Research Center
Summary of operation
Internal construction and operation management
1. Organization and department setting (organization framework, main research and development direction and functional unit)

A, organization, department settings
According to the progress of the project declaration, the Engineering Technology Research Center of Changzhou Shanshui Rubber Technology Co., Ltd. implements the implementation of the director responsibility system under the leadership of the general manager of the company. In 2018, the construction of the supporting parts of the district engineering center will be completed, including the R&D department, the trial production workshop, and the technology. Quality department, office. The center's implementation layout is based on the research and development direction, the original basic conditions, and the supporting environment of the unit.

(1) Establish a board of directors

The board of directors is the central decision-making body, responsible for decision-making on major issues in the development and research of the center, major technology introduction and transfer decisions, and the board of directors negotiates, plans, supervises and reviews financial budgets and final accounts for major issues in the operation of the center. At present, three members of the board of directors come to the participating members of the project center to negotiate and plan major issues in research.

(2) The establishment of the technical committee

The technical committee is the center's technical consulting organization. It is composed of well-known experts, scholars and supporting technical backbones of domestic scientific and technological circles, related enterprises and research institutes. It is responsible for reviewing the research and development work plan of the center, evaluating the engineering design test plan, providing technology and economy. Consulting and market information. At present, the technical committee consists of one director and five technical committees, all of whom are participants of the engineering center.

(3) Director of the Technical Center

The Director of the Technical Center is the day-to-day management and organizer of the Center, responsible for implementing Board resolutions and conducting day-to-day management of the Technology Center. The director of the technical center is Li Feng.

(4) Research and Development Department

According to the central task and development planning, we will develop cutting-edge technology research, develop high-tech products that are marketable and marketable, and develop product standards. The development department has established a sound development management system, and is equipped with five technical developers to engage in new product development. In 2015, through the technical breakthrough of the central development department, one new product was developed, effectively improving the market competitiveness.

(5) Quality Department

Responsible for testing and analytical testing during product development and the development of ancillary product standards. At present, 3 people in the quality department are specialized in quality testing, and 1 assistant is involved in the pilot test and analysis.

(6) The establishment of the finance department is completed. Yao Meifen, the head of the corporate finance department, is the head of the finance department of the engineering center. The financial management of the engineering center is standardized. The financial funds for the construction of the security center are used for the construction of the engineering center, and the funds are allocated reasonably to ensure the construction of the center.
The organization chart of the Engineering Technology Research Center is as follows:

B. Progress in research and development direction:
Industry key technology research and research
1. Design and research of multi-material simultaneous quantitative supply device;

Through independent innovation, a cam elevator is designed. The device adopts a cam splitter to realize intermittent vertical movement, which realizes the quantitative supply of materials without manual intervention, and is suitable for mass production of automatic production. The design of multiple bins can be realized. Simultaneous quantitative supply of materials, simplifying material supply and improving efficiency; the design of multiple guide columns enhances the stability of vertical motion. The technology research and development direction is currently completed in the small trial phase, and the technology has been granted an authorized patent: A cam lift, number ZL201520026916.4

2. Research on product transport suspension technology;

Development of conveying production processes and devices in the production of rubber products. Using the suspension technology, during the rotation of the belt, the air outlet under the conveyor belt blows the product to suspend the product on the surface of the conveyor belt, so that the product does not stick to the surface of the conveyor belt and can be smoothly conveyed. At present, the technology has matured, and the conveying equipment has been applied to the actual product production process. The technical patent is already in the authorization stage, a suspension conveyor, number: ZL201520026924.9.

3. Research and development of the process of removing semi-finished products and waste skin from rubber products;

During operation, the four vacuum suction cups on the suction mechanism will suck the raw materials into the melting machine. After waiting for the melting machine to be completed, the rubbing device is used to wipe off the melted semi-finished waste skin, and the two gripper cylinders on the gripping mechanism grasp the gripper. Go to other places. A turbocharger mechanism is added between the motor and the driven portion to reduce heat generation and wear of the motor during the change of the motor speed, thereby improving the handling efficiency. At present, the technology has developed the corresponding mechanical device, and obtained the authorized patent, a high-speed loading and unloading double robot, number: ZL201520027053.2

4. Research and development of finished product testing technology for rubber hose products

Since the rubber parts are organic materials, the final product needs to be qualified for quality inspection, and the products are generally judged by the method of inflation and drowning, and the identification efficiency is low. In order to improve the efficiency of testing the pass rate of finished products, the project developed a hose leak detection device, which realized a hollow tube to simultaneously detect two hose products and improved the detection efficiency. At present, the device has been developed and the equipment has been put into use, and one independent intellectual property right, a hose leak detection device, number ZL201520027330.X

5. Research on key technologies of EPDM waste recycling process.

An EPDM waste recycling process method has been developed, which is characterized by six steps of waste screening, crushing, batching, preliminary refining, mixing, and inspection, and waste screening. The materials produced by the technology and the original EPDM materials are mixed in a ratio of 1:3, and the rubber products produced by the technology fully meet the requirements, which can effectively improve the utilization of waste and reduce the production cost of the enterprise. And turn waste into profit. The research on this key technology has a great impact on the technological content and product performance of new products, and the project is currently underway. Obtained 1 invention patent authorization, EPDM waste recycling process, number: ZL201210259225.X

2. Construction and implementation of various management systems and operational mechanisms

Since the establishment of the center, it has adhered to the idea of "openness, mobility, unity and competition", introduced the talent competition mechanism and the talent flow mechanism, and strived to create a fair environment in terms of distribution and reward, and implemented the principle of linking personal income with assessment scores. To achieve first-class management, first-class talents, first-class technology, first-class equipment, market-oriented, with the engineering and industrialization of scientific and technological achievements as the basic task, focus on solving the development of rubber seal products and rubber materials industry Common technical problems and technical bottlenecks, and the center as the carrier and link to achieve deep cooperation between enterprises and colleges. At present, the formulation of some central management systems has been completed, and the construction and operation of the central operational mechanism follows the progress of the project task book. In the high-performance rubber material manufacturing industry, a number of patented technologies have been obtained, which have broken through the technical bottlenecks. At the same time, personnel and technical exchanges are being carried out with the industry-university-research cooperation units to ensure that the construction of the center can be successfully completed at the end of the implementation period.

3. Financial management system and income and expenditure status
| | | | |
| --- | --- | --- | --- |
| Budgetary expenses | 2.2 million yuan | Actual investment | 220.03 million yuan |
Funding details Unit: 10,000 yuan
| | |
| --- | --- |
| Staff fee | 55.20 |
| Equipment costs | 10.53 |
| Material fee | 98.3 |
| Fuel and power costs | 25 |
| Test external fee | 10 |
| Capital construction fee | |
| Travel expenses | 3 |
| Conference fee | 1.5 |
| Management fee | |
| Other fee | 16.5 |
| Total | 220.03 |
4. Establishment and operation of the management committee and technical committee

The Changzhou National High-tech Zone Rubber Products Materials Engineering Technology Research Center began construction in 2015 and is preparing to establish a management committee and technical committee. Through the construction and implementation in the past year, it has begun to take shape and achieve some results.

At present, the director of the management committee is Li Feng, the project leader. Two members of the committee are Peng Meifen and Jiang Xinjun, both of whom are among the participants of the engineering center project under construction.

The technical committee currently has 6 members, 1 chairman and 5 members. The chairman of the committee is served by the technology Xuan Licheng. He has rich experience and strong research and development ability. He is more accurate in grasping the market dynamics of the products. The members are Zhang Yijin, Zhang Xiaofen, Fan Jinbang, Peng Wenya and Zhou Bin. The five members are very familiar with the products in the daily new product development process. At the same time, they have a rich understanding of the technical level of similar products in the industry and have more creative ideas in product development.

The management committee and the technical committee have been established for more than a year, and they have been operating normally. They have greatly promoted the smooth implementation of the construction of the engineering center. At the same time, they provided effective guarantees and conditions for the unit's research and development capabilities and technical platform exchanges, and all of them operated well.

5. Statistics on science and technology (statistical reports on provincial and municipal science and technology infrastructure statistics, industrial enterprises and related situation tables (107-2), etc.)

The company attaches great importance to the construction of science and technology projects. Since 2015, it has completed several relevant scientific and technical statistics, and there are no delays or unreported situations. In addition, according to the implementation of high-tech enterprises, participate in the reporting of various types of statistical surveys of science and technology, complete 4 projects for research and development projects in 2015, and obtain confirmation from the science and technology departments and tax authorities. The specific projects are as follows:
Unit: 10,000 yuan
| | | | |
| --- | --- | --- | --- |
| Development of localization of BDV solenoid valve seals | 2014.4-2014.12 | Independent research and development | 48 |
| Development of BV filters and gas tree cap seals | 2014.1-2014.11 | Independent research and development | 53 |
| Development of throttle valve seals for heating furnaces | 2014.9-2014.12 | Independent research and development | 46 |
| Development of manual pump seals | 2014.9-2014.12 | Independent research and development | 60 |
The construction of scientific research conditions
1. Site and other supporting facilities (respective site area and main conditions for functional units such as R&D office, testing, trial production, and pilot test)

The engineering center has been in operation since 2015 and has invested RMB 2,030,300. The R&D office has been rebuilt to 150 square meters, equipped with documentation cabinets, computers and office facilities for the relevant engineering centers. The testing center has completed the construction of 120 square meters, equipped with testing equipment and so on. 3 sets, of which more than 100,000 yuan of equipment and equipment added 0, equipment related expenses of 105,300 yuan, the unit has accumulated more than 100,000 yuan of equipment and equipment sets; completed pre-production product trial production, material input costs of 983,000 yuan; pilot test The site construction is 230 square meters; the total construction area of the engineering center development and engineering test site reaches 500 square meters, which meets the construction requirements of the district engineering center, and the central construction construction cost of the center is 220 million yuan.

2, instrument and equipment (including software resources) and engineering equipment conditions configuration, use and operation

The list of equipment purchased is as follows:
Compressor

Model

Use

Addition method

Budget estimate
(ten thousand yuan)

Foreign

Domestic

Self made

Water inspection machine

Rubber manufacturing component testing

√

1.367

Moisture meter

Product testing analysis

√

0.62

Automatic image inspection machine

Production process inspection

√

8.55

Total

10.53
At present, the equipment and equipment have been installed and put into use, with a total investment of 105,300 yuan, and some other equipment is being purchased (see attached equipment list). The engineering equipment configuration and operation progress are basically implemented in accordance with the progress of the central project.
The construction of the talent team in the engineering center
1. Team size, personnel (professional, age) structure and quality

| | | | | | | | |
| --- | --- | --- | --- | --- | --- | --- | --- |
| Serial number | Name | Gender | Bachelor of Science | Job title | Profession | Current unit | Project division |
| 1 | Li Feng | Male | College | Intermediate | Chemical Engineering and Technology | Changzhou Landscape Rubber Technology Co,.Ltd | Principal |
| 2 | Peng Meifen | Female | College | Intermediate | Mechanical design and manufacturing and automation | Changzhou Landscape Rubber Technology Co,.Ltd | Material testing |
| 3 | Jiang Xinjun | Male | College | Primary | Chemical industry | Changzhou Landscape Rubber Technology Co,.Ltd | Process development |
| 4 | Xuan Licheng | Male | College | Primary | Material Processing and Control Engineering | Changzhou Landscape Rubber Technology Co,.Ltd | Production Process |
| 5 | Zhang Yijin | Male | College | Other | Chemical Engineering and Technology | Changzhou Landscape Rubber Technology Co,.Ltd | Equipment management |
| 6 | Zhang Xiaofen | Female | College | Other | Chemical Engineering and Technology | Changzhou Landscape Rubber Technology Co,.Ltd | Inspection product |
| 7 | Fan Jinbang | Male | College | Other | CNC machine tool processing technology | Changzhou Landscape Rubber Technology Co,.Ltd | Mold replacement |
| 8 | Peng Wenya | Female | College | Other | CNC machine tool processing technology | Changzhou Landscape Rubber Technology Co,.Ltd | Product specification |
| 9 | Zhou Bin | Female | College | Other | Applied Electronics and Korean | Changzhou Landscape Rubber Technology Co,.Ltd | Data organization |
| 10 | Chen Yanyu | Female | College | Other | Polymer and Materials Engineering | Changzhou Landscape Rubber Technology Co,.Ltd | Process development |
2. Talent introduction and training

The engineering center has gathered and trained a group of R&D personnel and professional technicians with rich experience in the polymer rubber material manufacturing industry. So far, they have conducted technical consultations and exchanges with two professors and experts from the industry, academia and research institutes. They are invited to observe the project. The guidance has enabled the unit to form a team of professional technicians with R&D, experiment, theory, pilot and development capabilities. In the process of the construction of the engineering center, the unit has trained 4 outstanding R&D backbones, including 2 with intermediate titles. The company regularly trains personnel and actively participates in technical exchange meetings and project training meetings held by science and technology departments such as districts and cities. Each time, a special person will be sent to participate in the training to ensure the smooth implementation of the project of the engineering center, and further preparations will be made for the application of the Changzhou Engineering Technology Research Center. Through the above training situation, the company's research and development and technical personnel technical improvement.

Engineering center research or engineering technology development results and operational effectiveness
1. Undertake scientific research projects, domestic and foreign technical exchanges and cooperation

A. In 2015, the research work of various research topics in the enterprise was fully launched, and four research and development projects were carried out:

BDV solenoid valve seals localization research and development 2015.1-2015.12 development funding of 480,000 yuan

Development of BV filter and gas tree cap seals 2015.1-2015.12 Development expenses 530,000 yuan

Development of throttle valve seals for heating furnaces 2015.1-2015.12 Development expenses of 460,000 yuan

Development of manual pump seals 2015.1-2015.12 Development expenses 200,000 yuan

B. The company has carried out technical exchanges with local universities and research institutes for many times, and during the construction of the engineering center, it has provided many opinions and suggestions for enterprise construction, and accelerated the construction of enterprise engineering technology research centers. In terms of product development, it also provides effective technical support and technical support for the improvement of product technology content.

2. Technical research, transformation of results and economic benefits

Since the construction of the engineering center, it has made great breakthroughs in technical research, and has carried out aspects such as rubber material production equipment, BDV solenoid valve seal material, automatic rubber mold release casting technology, suspension transport technology, and reclaimed rubber EPDM preparation technology. Technological innovation, part of the project's technical achievements have been transformed into patents and samples. From the construction of the engineering center to the present, the results of the center have been transformed into 5 patents (including 5 licenses, including 1 invention license), which are transformed into 1 high-tech product, EPDM recycled rubber products; significant economic benefits, construction in the center In the process, the main products transformed in 2015 have an economic benefit of 6 million yuan.

3. Industry training, open operation and technical radiation
Industry training situation:
Using the central platform, the technicians will be trained and upgraded through training and further training. At the same time, the visiting guest researchers will be invited to provide training to the unit twice to strengthen the center's technological innovation capability. So far, 3 professional R&D personnel have been trained to ensure the center's leading position in new product development. The center technicians will be sent out to train and study in a planned manner through joint training and entrusted training. For laboratory R&D members, we will train in technology, quality, management and other systems, and participate in the city's industry technical exchanges three times. The training content is based on ISO9001. During the construction of the project, university professors, experts and fellow technical personnel are invited to conduct exchange training, carry out forward-looking research around the key common technologies of the industry, and make technical reserves for the future development of the center. Through a combination of specialization and integration, please come in and send out, train and introduce, accelerate the cultivation of technology and management of innovative talents, and create an innovative team of central design and production technology.

The center is open for operation:
The engineering center insists on opening up, doing a good job, making open services, and receiving relevant engineering technologies proposed by relevant enterprises. Conducting commissioned research, and also accepting relevant personnel to use the center's research design and test test conditions to centrally test related research and engineering development, basic technology, and product research; extensively absorb national and provincial key laboratories, national and provincial engineering technologies. Research centers, related institutions, research institutes, and relevant achievements and technologies of units and individuals, carry out engineering research and transformation, provide complete sets of engineering research results and technologies for industrialization, and promote scientific research and economic integration in industry disciplines and fields. It plays a central role, making the center truly become the research and development and engineering center for the development of high-performance rubber products.

Central technology radiation:
The Center encourages and absorbs relevant domestic scientific research institutions, research institutes, universities and colleges to participate in scientific and technological achievements, cooperative development, benefit sharing, and establish a wide network of cooperation and cooperation. Give full play to the comprehensive advantages of all aspects of the center, so that the EPDM recycled rubber product manufacturing technology will be spread to the collaborative layer enterprises after engineering research, and technology transfer can be carried out to drive peers' scientific and technological progress. During the implementation period, it will undertake domestic commissioned research business; domestic undertake entrusted testing business; build high-tech recycled rubber materials to prepare domestic and foreign technology and safety standard information service platform. The test center cooperates with the Changzhou Municipal Bureau of Quality and Technical Supervision to form mutual support for the technical and equipment resources of both parties.

4. Representative results
A total of 5 patents have been obtained, of which 5 have been authorized. as follows:
EPDM waste recycling process ZL 201210259225.X
A cam lift ZL201520026916.4
Suspension conveyor ZL 201520026924.9
A high-speed loading and unloading double robot ZL201520027053.2
Hose leak detection device ZL201520027330.X

The product has successfully developed a new type of EPDM recycled rubber series products. Up to now, the new recycled rubber series products have sold 20 million sets in 2015, with a total sales volume of 21 million yuan. The market feedback is very good.

R&D office, testing laboratory, trial laboratory, pilot test site, etc. The basic construction of the 500-square-meter construction center, equipment and equipment purchases are implemented according to the schedule and plan. The investment has been 2.203 million yuan, and procurement continues according to the implementation progress. And configuration, to ensure that the District Engineering Center successfully completed the indicators and actively prepare for acceptance.

Part of production equipment and environment

| | |
| --- | --- |
| | |
| | |
| | |
Partial experimental equipment